Google Knowledge Graph has become into a serious consideration these days since people always rely its graph search results when they need instant information. Over the past few months Google is being blamed for its mistakes shown on its Knowledge Graph that is driving users with incorrect information!
There were also numerous speculations rounding the search engine world, and again a blunder has been encountered recently with Google Knowledge Graph showing wrong date for India's important historic event. It is about the upcoming Indian festival, Guru Nanak Jayanthi.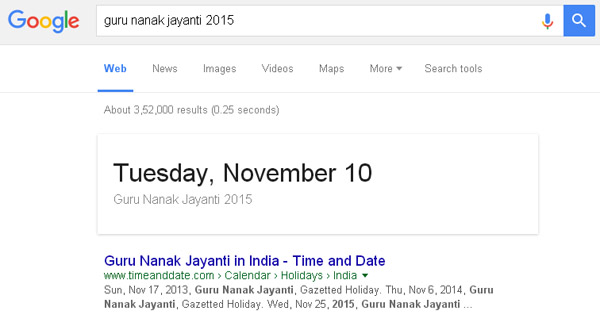 The actual date of Guru Nanak Jayanti falls on the 25th of November, while Google has mistaken it as November 10! It's not just a gap of 15 days, but it's a blunder which drives people to change their thoughts on believing Google.
Such mistakes can cause irreparable injury or bad reputation to the world's greatest search engine!
Whether people will still believe in Google's knowledge graph? Will this wrong be resolved ASAP?
It is all left with Google!
Share your thoughts upon this! Let's make this discussion to reach Google's ears..!!