How to Use and Where to Use Disavow Tool
Google's search spam head Matt cutts, recently noted that we can use the disavow tool when you don't have a manual action to remove your link.
What is mean by Disavow Tool and how to use?
This tool should be used with caution. The publishers first try to remove the links which they feel unwanted to their website. The publishers should inform the site owners about the links that don't want to point to their website.
Format for this one is list all the URL in a text file either individually or include all the relevant links in the particular site domain. Example for this:
Domain: google.com
Domain: facebook.com
The mixed format of the disavow tool link is
From the above example:
Lines begin with pound sign (#) that are considered as comments and Google ignores them
The Domain keyword indicates that you would like to disavow links from all pages on a particular website. (From above spamdomian1.com)
You can also request for only particular pages (from above, spamdomain2.com indicates that one)
Once you create the file, you should access the webmaster tool in the Google webmaster central. You can now select your site and go though the warnings and guidelines and then select your file and submit your website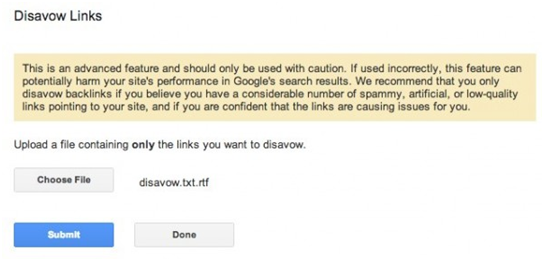 Google take several weeks to delete the link denoted to your website. Also Google have the reserves the right for reject our submission when they thing reason is not valid.
Why needs to Disavow links
Those website that is affected by the penguin and panda update need this Disavow links tool to remove the negative SEO links. These Disavow tool helps to maintain your website as clean slate and prevent from bad links points to your website.
Where to use Disavow links
Below are all the situation you need the disavow tools help to remove it
You tried to remove links but the webmaster won't allows it
You thinks that your site is affected by negative SEO
You saw a link bomb attack and afraid of that it may affect your site
You see links that pointing to your site is don't want to associates your site
You afraid of someone submit the spam report about you
You see the ranking drop in search engine behalf of penguin algorithm update.